2018.08.20
I got severely side tracked over the past couple of weeks with a room renovation that came out of the blue. The room used to be the computer room/home office until we did the house addition. I've been working off/on the room in my limited spare time and was planning on focusing on it during the winter. What initiated the urgency in the renovation was that we had an upstairs bedroom and due to the nature and age of the house, it required a window air conditioner to keep the summer temperatures in check. Every fall, I pulled the AC unit and store it in the basement and put it back in around spring, all good. So two weeks ago, my wife noticed there was some mildew on the ceiling where the AC unit air was directed. I pulled the unit from the window and quickly discovered that the unit was just saturated in algae, mildew, mold... just NASTY. We bought a new AC unit, but decided to prioritize redoing the spare bedroom. This entailed removing old wall paper, some drywall patching, paint, carpet replaced with laminated flooring, new blinds, ceiling fan, and new vent covers. My wife picked out a lavender wall color with white trim and gray/white flooring. Overall, I think the room looks wonderful and the total cost wasn't that bad. Naturally, this opens the flood gates for the other rooms in the house to be re-done.
2018.07.26
Just got back from a short trip to Washington, DC. This was a last minute trip that popped up when my wife's parents were planning on going out there to see a friend of theirs. Since it's been years since either my wife or I had been there and my daughter has never been, it seemed like a great idea for a road trip. It also didn't hurt that the driving duties would be delegated to my wife and I.

Despite heavy rains and continuous flood warnings the entire time, we managed to see the Washington Monument, Smithsonian Museum of American History, Library of Congress, both Korean and Vietnam War Memorials, and the Spy Museum. We also spent the day up in Georgetown so my daughter could get some college swag. Added bonus was that I got to see the Exorcist stairs. We actually stayed in Springfield, Virginia and took the blue line subway into town, which worked out great.
2018.07.15
Spent just about the entire weekend working on the 300s cancer (rust bubbles). This was my my first real attempt at body work. Sad to say I'm not finished and this weeks weather is calling for insane humidity and rain, so any additional painting will have to wait. Overall, I'm pretty happy with the results so far, despite the fear of totally screwing it up. Best advice from a coworker who restores cars as a hobby, "take your time and don't get discouraged". If I get some time, I'll work up a full diary of the process. In the mean time, here are some pix: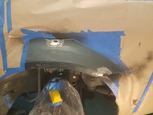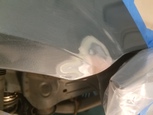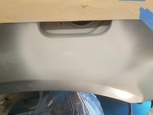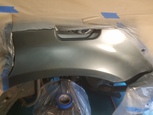 I overshot the primer a bit, so I'll have to shoot one more coat of color before I can finish it off with the clear coat. After letting the clear coat settle, all that's left is to wet sand and polish it out. Despite using rattle cans, I think it'll turn out pretty good.
2018.06.13
Still haven't had the nerve to start grinding away at the rust bubbles on the 300, though I have started gathering materials for it. Been debating over rattle can or full out air-gun for paint. I don't have the tools for air-gun paint, though it would be a nice addition. It's hard to justify the cost of the air-gun and all the parts that are needed for such small repairs. I figure, worst case, I could rattle can the spots and if it looks bad, sand it down and go full out.

I had a chance to see Slayer's last concert last week. They had Anthrax, Behemoth, Lamb of God, and Testament as support acts. Concert was just over 6 hours long. Perfect weather, great music, and good beer. Other than being on a Wednesday night, what more could you want. Best line heard while leaving the concert: "Has anyone seen a guy with a black shirt?" Still chuckle when I think about it.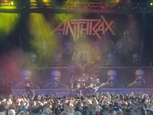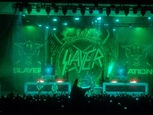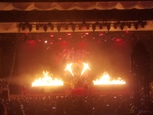 2018.06.04
Had a bit of an issue two weeks ago when I brought my 300 in for an alignment after changing out the control arms (worn bushings). I took Monday off and dropped the car off at a different location of the chain that I normally go to (I have a 3 year alignment package with the chain). The last time I went to my normal store, I was a little underwhelmed by the service, nothing specifically bad, just eh. I was under the impression that this specific location was their area flagship store. I drop the car off and about an hour and half later, get a call back saying they couldn't do the alignment because the driver's side arm was actually the passenger side part and that the passenger side spindle was bent. In complete and utter disbelief/anger, I go back down and pick up the car double checking with the manager.

Spent the next week pricing parts and trying to figure out how the heck I managed to screw it up and otherwise second guessing everything that I had did. Other than pulling left a bit, the car drove fine. Fortunately, I had not disposed of the old parts and they were stamped LH and RH for easy identification. Pulled the suspect part out and what do you know, perfect match. Nothing wrong with the control arms. Since that was fine. I'm assuming the spindle (a $400 part, and the second biggest piece of solid metal on the car) was also fine.

Take the car down first thing Saturday morning to my normal store and low and behold. control arms and spindle are fine. As I'm explaining to the service manager the story, the techs hanging around were shaking their heads (spindles don't bend, they shatter, and then only in a substantial wreck). Since the 300 is lowered, my camber and caster are a bit out of wack, but that was expected. Caster on the passenger side is a little high, may have to investigate that one further.

So good news that I'm not completely incompetent. A little peeved at the chain store though.