2018.07.15
Spent just about the entire weekend working on the 300s cancer (rust bubbles). This was my my first real attempt at body work. Sad to say I'm not finished and this weeks weather is calling for insane humidity and rain, so any additional painting will have to wait. Overall, I'm pretty happy with the results so far, despite the fear of totally screwing it up. Best advice from a coworker who restores cars as a hobby, "take your time and don't get discouraged". If I get some time, I'll work up a full diary of the process. In the mean time, here are some pix: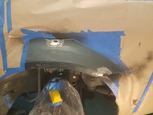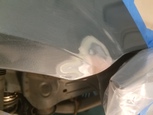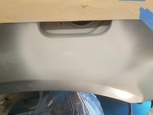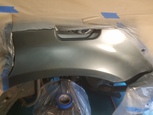 I overshot the primer a bit, so I'll have to shoot one more coat of color before I can finish it off with the clear coat. After letting the clear coat settle, all that's left is to wet sand and polish it out. Despite using rattle cans, I think it'll turn out pretty good.
2018.06.13
Still haven't had the nerve to start grinding away at the rust bubbles on the 300, though I have started gathering materials for it. Been debating over rattle can or full out air-gun for paint. I don't have the tools for air-gun paint, though it would be a nice addition. It's hard to justify the cost of the air-gun and all the parts that are needed for such small repairs. I figure, worst case, I could rattle can the spots and if it looks bad, sand it down and go full out.

I had a chance to see Slayer's last concert last week. They had Anthrax, Behemoth, Lamb of God, and Testament as support acts. Concert was just over 6 hours long. Perfect weather, great music, and good beer. Other than being on a Wednesday night, what more could you want. Best line heard while leaving the concert: "Has anyone seen a guy with a black shirt?" Still chuckle when I think about it.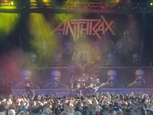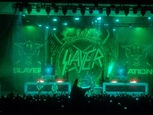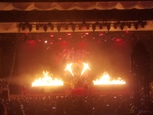 2018.06.04
Had a bit of an issue two weeks ago when I brought my 300 in for an alignment after changing out the control arms (worn bushings). I took Monday off and dropped the car off at a different location of the chain that I normally go to (I have a 3 year alignment package with the chain). The last time I went to my normal store, I was a little underwhelmed by the service, nothing specifically bad, just eh. I was under the impression that this specific location was their area flagship store. I drop the car off and about an hour and half later, get a call back saying they couldn't do the alignment because the driver's side arm was actually the passenger side part and that the passenger side spindle was bent. In complete and utter disbelief/anger, I go back down and pick up the car double checking with the manager.

Spent the next week pricing parts and trying to figure out how the heck I managed to screw it up and otherwise second guessing everything that I had did. Other than pulling left a bit, the car drove fine. Fortunately, I had not disposed of the old parts and they were stamped LH and RH for easy identification. Pulled the suspect part out and what do you know, perfect match. Nothing wrong with the control arms. Since that was fine. I'm assuming the spindle (a $400 part, and the second biggest piece of solid metal on the car) was also fine.

Take the car down first thing Saturday morning to my normal store and low and behold. control arms and spindle are fine. As I'm explaining to the service manager the story, the techs hanging around were shaking their heads (spindles don't bend, they shatter, and then only in a substantial wreck). Since the 300 is lowered, my camber and caster are a bit out of wack, but that was expected. Caster on the passenger side is a little high, may have to investigate that one further.

So good news that I'm not completely incompetent. A little peeved at the chain store though.
2018.05.01
After two years of badgering from FCA (Fiat Chrysler) about the Takata airbag recall work that needed done, I finally let the dealer touch my baby this past weekend. I've been putting it off due to some reports of airbag warning lights coming on after having the work done, but finally gave in after the wife voiced some concern. Took the dealer all of about 3 hours to get both driver's and passenger side bags replaced. I suspect 90% of this time was spent replacing the passenger side. So far, everything looks good.

Before taking the car in, I spent the night before cleaning up the car and noticed a couple of paint bubbles starting to appear on the driver's side rear quarter panel, the largest of which is about the size of a quarter. It looks like I will be spending some time this summer perfecting the art of automotive body paint and repair. Not exactly keen about taking doing this on my car, but desperate times call for desperate measures. I keep telling myself if I royally screw up, I can fall back on a body shop.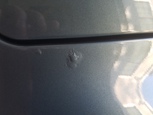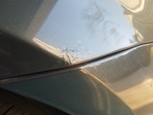 A couple of other projects that I'll be working on the next couple of weeks: relocating the hydraulic pump on the lift so the driver's door will stop hitting it and extending the 1/2 galvanized air line to tie in the new air compressor.
2018.04.06
Got back from a wonderful vacation in Iceland. This trip has been on my bucket list for several years now and had been delayed for the past four years due to the family trips to France and Ireland (not complaining). As usual, my wife handled the planning and itinerary and also as usual, managed a great vacation despite some weather related hiccups (which is to be expected in Iceland this time of year). We saw numerous waterfalls, glaciers, hot springs and geysers, and most of the touristy hot spots. Since this is my daughter's senior year in high school, this will probably be the last big vacation we take for until college is done with. Some obligatory pictures below.