2018.03.04
Got a little side-tracked from the MAME cabinet when I came across someone giving away a SpeedAire 20gal air compressor. The reason for the give-away was two fold, leaking oil and it only ran on 240v. At the time of the posting, I wasn't really interested, but after a couple of weeks of no interest, I gave in and decided to contact the "seller". The seller dropped off the unit a day later and it was pretty caked in oil. It sat in the garage for another week before I had a chance to break the unit down and clean it up.

After cleaning up the oil, it was pretty obvious where the problem was: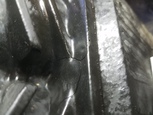 I pulled the compressor case after some grinding, the cracks were just in the sound reducing coating and not the case. I stripped down the compressor and decided that the cause of the oil leak was due to blown gaskets. I ordered a new set, along with a new pressure switch (missing cover, and better safe then sorry) and handle (that was missing) from AirCompressorPartsOnline.com. This set me back just under $80.00.

While waiting on the parts, I decided to hose down the outside of the tank. I plugged the open parts the best I could, but still managed to get some water in. I opened the drain cock and nothing came out despite the obvious "sloshing" that could be heard. I put some air in the tank and still nothing, drain cock is plugged up. Depressurized the tank and removed the drain cock. I set the tank down and the worst concoction of fluids came spilling out on the driveway (one of these days I l'll learn to use a pan). Oil, water, rust, and God knows what else in this viscous sludge. Spent the next 45 minutes flushing out the tank and then running air through the tank to dry things out. Stay tuned!
2018.02.27
Been spending the past month working on various picture projects for the girl. Its a bit of work having a senior in high school. From yearbook ads, senior posters, and picking out pictures for the senior banquet, its a bit grueling. I've been using my trusty copy of Adobe Photoshop v6.0, which is starting to show it's age. I also keep a current version of GIMP (Gnu Image Manipulation Program) around, and try to force myself to use it, but I always find myself going back to PS which I have used since the early 90s. Now that newer versions of PS are subscription based (pay per month, as opposed to flat fee), I may have to just cut cold turkey. GIMP is more than capable, not too mention free, just getting used to the user interface requires a little patience.

I did the 5k oil change on the 300 over the weekend and noticed that something managed to cut a small hole in my brand new exhaust right at the flex pipe. Since the hole is not more than 1/4in, I may just leave it. That being said, I did get a welder for Christmas that hasn't seen much action lately. I also changed out my 20in wheels back to the OEM 18in wheels due to tire wear. The 20in set is also starting to get pretty bad shape, so this may be the end of them. Nevertheless, I'll be due for a new set of tires within the next 6 months, so I'm contemplating just getting tires for the 18s, or going all out on a new set of 20in rims+tires. First world problems, right?
2018.01.09
Spent some time on New Year's eve fixing various issues with the MAME cabinet. On the list was pulling off the monitor surround since the new monitor was a little different than the dead one, the volume control that was attached to the surround was flaky as all heck and needed to be replaced, and the very dim marquee lighting.

Pulling the surround was pretty easy since it was just held in with brad nails. I think the next one will be either bolted or screwed in for even easier removal. The previous volume control and sound amplifier was just hacked up from a set of PC speakers and for that, I upgraded to a Dayton Audio amplifier kit from Parts Express (#300-385). This kit is nice because it has a remotely wired volume control that will be attached to the monitor surround.

I had switched from cold cathode to a hard PCB LED strip years ago and over time it was starting to dim down to just barely visible. I upgraded the single strip to two flex strips (Parts Express part# 073-108 )to bring things back to life.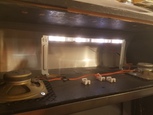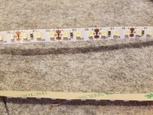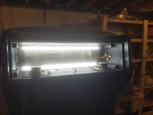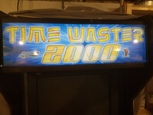 Hoping to have some time in the next week or so to cut out a new monitor surround. I'm also thinking about having an overlay printed to put over the surround for some added bling.
2017.12.19
It's been another hectic month building up to Christmas. Since work on the Chrysler has been completed, I've changed focus to my MAME cabinet. Over the past 6 months or so, I've been trying to get specific games that I used to play as a kid, namely Dragon's Lair (and SpaceAce), as well as Tron, Spy Hunter, and my current obsession, Star Wars. With the Daphne Emulator installed and integrated to AdvanceMenu, I was able to get just about all of the old Laser Disc games working. I had a wireless flight stick style joystick that I haven't used in years working. Using that along the with spinner wheel got me an "almost" playable Tron. Need to do some tweaking with the joystick and maybe some practice.

That leaves Spy Hunter and Star Wars. As some of you know, these have very specific controllers, both of which, are very hard to get a hold of (or outrageously expensive). I think my 2018 project will be the fabrication of a controller based on Star Wars, but altered just enough for Spy Hunter. Stay tuned.

I also managed to finally get my own welder, which I've been playing with as well. I've been wanting a welder for some time and the stars have finally aligned. I opted for a Vulcan Omni 220, a combination MIG/TIG/Stick welder that runs on 120v and 220v, pretty much a do all wherever unit. I'm currently using it for Flux-Core MIG welding. I'm hoping to get some gas and try some aluminum TIG welding soon.
2017.11.03
Hanging my head in shame as I post this. Turns out that my oil leak was actually a coolant leak. Before you laugh at me too much, the Zerex HOAT antifreeze the 300 takes is yellowish/orange in color, not much different than fresh synthetic oil and the weep hole for the water pump is right over the oil pan gasket. So it appears that I have a water pump to replace in the near future. The strapping the exhaust to the drive shaft cross member was actually the opposite of what I needed to do, resulting in the worst rattle conceivable. I managed to take care of the noise with a couple of spacers on the driveshaft cross member (keeps the driveshaft from touching the ground in the event of a failure) dropping it about 3/8in. The new exhaust was 1/4in bigger in diameter than stock, so apparently there is very little tolerance.

I've been plenty busy with work the past two months. We've been pulling down our fixed wireless broadband equipment off of towers. The equipment was EOL'd 5 years ago and was not a whole lot better than dial-up for internet speeds (768/256). Just good enough 10 years ago, not a good solution nowadays. Equipment that can provide speeds for today's internet is just too expensive to invest in, so we (my work) are ramping up FTTH (fiber to the home) deployments and filling dead spots with Satellite broadband.

So, this means that my time as a tower climber has pretty much ended. My last climb was on October 25th, a 300ft tower in Madison, IN. Pretty much killed me, not helping that it was a fairly cold day. I have mixed emotions about not climbing anymore, I did enjoy it for the most part, though I think I will enjoy winter and spring a heck of a lot more from now on. Here are pictures from my first (July 13th 2007) and last climb (October 25th 2017).